The Puzzle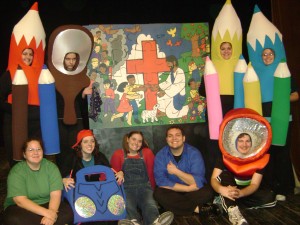 The Puzzle is a 55 minute children's musical/drama that presents the Gospel in a simple, child-friendly manner through 11 colorful characters who explain how Jesus can be your Friend. The toy box characters each present a different aspect of the message of salvation: the flashlight informs the central character that God loves her, the pencils explain that Jesus is God's Son, mirror tells her Jesus is dead because of her sin, but the toy car lets her know that Jesus rose from the dead and she can know Him.
The Puzzle is currently translated into 16 languages and is being performed all across the continent. The Puzzle has been instrumental in starting several churches in France and Spain.
If your group would like to be a part of a Puzzle team to Europe here's what you need to know to get started:
You'll need an energetic team with a minimum 7-8 people who are at least 18 years old.
Time set aside for our Puzzle trainer to visit you.