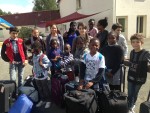 These Muslim students have never had a summer camp experience before. They didn't even know to imagine what camp is like with all it has to offer: games, music, team sports, late nights and laughter. And they could never have dreamed of the opportunity of hearing about Jesus at camp either. They didn't even realize what, or who, they were missing.
When Europe's Children learned that Elisabet wanted to provide tuition for these Muslim young people to attend the French Assemblies of God summer camp, we knew we needed to help. We knew that our donors would help, too, and you have.
Elisabet dreamed of sending as many children and young people as possible to the camp, but the 12-day camp is expensive, $330 per student.
We were able to send $5000 to Elisabet and the students pictured were able to go and hear about Jesus.
Elisabet explains why this is important: "These children get frustrated by their marginalization in the French culture and this makes them want to drop out of school and separate themselves. It's at this moment that these children are vulnerable to radicalization. They will be drawn to extremist behavior. By sending these children to camp, we separate them from their momentary frustrations and tell them of the love of the Savior.
Thank you for giving to make this possible. Elisabet says, "We keep them in our prayers and believe that, more than a blessing, the word of our God will produce in their hearts an eternal fruit for their entire lives."
Thank you for helping to produce eternal fruit in these young lives.