The leaders at the international Vienna Christian Center in Austria love the people of their community and they love opportunities to let the children of Vienna know about Jesus. The people they reach come from various backgrounds, ethnicities, and economic status.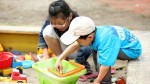 This year the church hosted a day camp that ended it's last two days as an overnight camp. The day camp was filled with all kinds of activities. The children experienced six days of games, fun, but most importantly, they were introduced to Jesus.
The daytime portion camp was wonderful, but missionary Melinda Henderson tells us that the overnight camp "was even better. The Lord showed up by his Holy Spirit and children wept in the altar as they responded in the prayer time."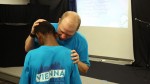 The Hendersons are grateful to Europe's Children, and our donors. They told us, "We couldn't have done it with your partnership and investment. Thank you for all you do for children across Europe!"
Thank you, donors, for all you give to make events like this possible.