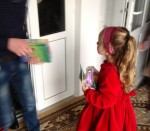 The rugged Dobrogea region is hard to get to, nestled along the coast of the Black Sea in the southeast corner of Romania, along the border with Bulgaria. A million impoverished Romanians, Turks, Tartars, Muslims, and gypsies, populate the region.
Poverty is common in Romania. Many struggle with its issues, but nowhere are its effects more evident than here. Many of the people are illiterate and uneducated and have never had a chance to hear the Gospel.
Missionaries Ana and Mike Dascalescu are working to change that. Through your giving, Europe's Children offered the funds to buy Christmas presents for children in these remote villages of Dobrogea.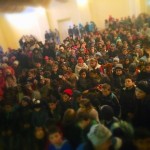 Your generosity allowed 1200 children and their families to hear about the love of Jesus and receive a Christmas present. The presents served to give both joy and stand as a continual reminder of His love.
This was a seemingly small step in the Dascalescu's efforts to tell both children and adults about Christ, but it was an important one.
Please help us do more to help the Dascalescus reach this forgotten region full of unreached children and their families by clicking here.