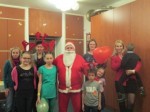 Réka is a private English teacher in Pécsvárad, a small village of 4,000 nestled in the mountains of southern Hungary, near Croatia. Réka, though, is more than just an English teacher. She's also a children's minister. She has discovered ways to use the talents and tools God has given her to reach children for Jesus.
Because of the English lessons Réka has given in her community, she has built relationships and trust with local kids and their families. This trust led her to create and lead English camps and also summer Bible camps.
Réka organized a Christmas party for the children she works with in Komló, Hungary. Santa Claus was the special guest. But this Santa knows the true meaning of Christmas.
Réka tells us, "After having fun, playing, singing with the children, (Santa) told us that the greatest gift you can receive is Jesus Christ in your heart."
Your giving to Europe's Children made this Christmas party possible, and made it possible for these children to hear the Gospel. Thank you from us at Europe's Children, Réka, and those children in Komló for your giving.